We took a two week vacation from our reading series recently! Rather than continuing with our weekly story and same ol', same ol' routine, as a class we read a chapter book. I chose
"Sideways Stories from Wayside School"
by Louis Sachar for my reading group! Mrs. Gorf's apple antics and all of the other humorous characters had my kids hooked from the beginning! Over a two week period we read the book aloud, built our comprehension and improved our extended response answers with questions about each chapter, learned many new vocabulary words and built our dictionary skills, and completed a writing task at the end of the book.
Special thanks are due to
The Teaching Bank for their novel units from Teachers Pay Teachers
. This was the first novel for both my students and I, and needless to say I wasn't sure exactly where to start. The unit I purchased from The Teaching Bank really helped me know where to start with this chapter book and saved me quite a bit of time too!
Of course I added to the materials I purchased! Each of my kiddos wrote a 31st chapter for the book with themselves as the main character! In my reading group we've really been trying to work on reflecting on our own work and helping our classmates edit their work. So, with that in mind, I created a peer review and self-assessment checklist. In addition to that, I created a teacher assessment rubric to evaluate the students' work based on criteria that we have been working on in class. I also created a simple exit slip or bell ringer with an answer space similar to what will be on the KPREP test.
Peer Editing and Self Assessment Checklist
Sideways Stories From Wayside School - Ch. 31 Writing Assignment Rubric
Sideways Stories from Wayside School Exit Slip or Bell Ringer With KPrep Template
My kids have loved reading this chapter book and were so upset that they didn't get to read another one this week! They moaned and groaned when I told them to bring their text book to class on Monday. But I love how much they loved it! Hopefully someone out there can use these documents!
Check out Adventures of a Third Grade Teacher for an amazing giveaway! She'll draw for a winner this Wednesday at 8 PM so hurry on over and don't miss your chance to win everything from her TPT store!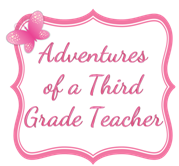 I would love, love, love to read another chapter book with my class soon! At the very least, we
will
be reading more of them next year! What chapter books have you read with your classes? Any recommendations for my 3rd graders?
I've linked up with "Manic Mondays" at Classroom Freebies! Head over for a look at lots and lots of great blogs all offering you freebies!