What a nice idea...giving back to others when you have been blessed by the kindness and generosity of those around you.
Recently I have been fortunate enough to benefit from the kindness and generosity of men and women I have never met and likely never will! This normally unlucky person feels so lucky to have had four
donors choose projects
worth $1,229 funded in the past year and to have won several giveaways from amazing bloggers in just the past few months! Katie at
Dirty Hands and Lesson Plans
has had some success with Donors Choose too, and she is planning on posting some of her tips for getting
your
projects funded too! In the meantime, check out the rest of her blog!
I want to share my good fortune with others, so I am hosting
my first giveaway
! I am so excited to do this, and I have been thinking about it for some time now. I had planned to hold a giveaway when I reached 75 or 100 followers, but I just don't want to wait! So here we are! I hope to have the opportunity to brighten someone's day and make them feel a little lucky too!
I'm giving away two prizes to two winners! The first winner will get a $15 gift card, and the second winner will get a $10 gift card! You get to choose between a Donors Choose gift card and a Teachers Pay Teachers gift card or a combination of the two (TPT offers a $10 gift card, so if you are my first winner and would prefer a TPT gift card, you can get $10 from TPT and $5 from DC)!
Enter by following my blog and leaving a comment on this post telling me which gift card you would choose! Grab my button for your blog or add 3rd Grade's a Charm to your blog roll for two more chances to win! Mention my giveaway in a blog post and link back to this post for 2 more entries! You can link back to this post by grabbing the button below for your post! (Hopefully it'll work! If not I'll be tweaking it!)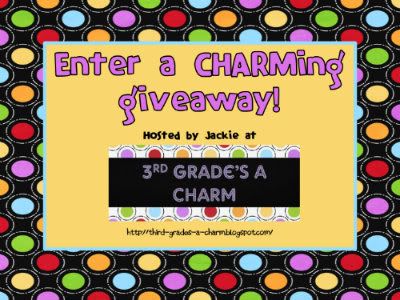 What are you waiting for?? Enter now!!
a Rafflecopter giveaway
Don't miss out on these other great giveaways either!
Sweet Michelle, at
No Monkey Business
, is having a giveaway to celebrate 100 followers! She's giving away 10 items from her TPT or TN store, and let me tell you, you
want
to win! Her stuff is great! Be sure to go
check it out and enter to win
!
Brittany from Sweet Seconds (love that title - every second counts!) is having an amazing giveaway as well! She too is celebrating 100 followers! Stop by and enter to win a TPT gift certificate or an Amazon gift certificate!
Every New Beginning is hosting a giveaway as well to introduce her new blog! Stop by and take a look around!